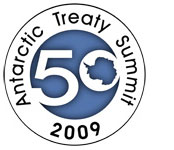 In line with thIn line with the objectives of the Antarctic Treaty Summit to establish broad public awareness around the world about the visionary goals, strategies and achievements that have emerged from the Antarctic Treaty as well as to discuss lessons learnt from the Antarctic Treaty System over the past five decades, the essay competition encouraged young researchers to critically assess specific aspects of Antarctic politics and share their vision and recommendations for the future of the Antarctic Treaty System.

We received 15 thoughtful high-quality submissions, which made it extremely difficult for the review panel to select one winner. All contestants' submissions did not only broaden our horizons but instilled in us a great hope in the new generation of polar researchers.

Kate Harris, a graduate student currently based at MIT, was selected as the overall winner of the essay contest. She convinced the reviewers with her application of the principles of the Antarctic Treaty's Article IV to the Siachen glacier in the disputed region of Kashmir. Kate will receive a full travel scholarship to attend the Antarctic Treaty Summit. We want to take this opportunity to congratulate Kate again for her innovative and thought-provoking essay.
Our heartiest congratulations go also to Indi-Hodgson-Johnston, Australia, and Jaehee Kim, South Korea, as the two runners-up in the essay competition. Hodgson-Johnston's essay called for the application of the Convention on the Conservation of Antarctic Marine Living Resources (CCAMLR) principles to the high seas. Kim's essay cautioned about the spread of commercial exploitation into Antarctica through bioprospecting and suggested that an "Antarctic Science and Research Organization for Biological Prospecting" (ASROBP) could help to keep this in check.

Our sincere thanks go to Paul Berkman and the International Board for the Antarctic Treaty Summit, with whom it was a pleasure and privilege to collaborate.

Furthermore, we wish to thank the review panel, Jason Davis, Andriy Fedchuk, Daniela Liggett and Preston Scott, who put in many hours of work to assess the submitted essays.
Biosketch - Kate Harris:
Kate Harris, 27, is a young explorer, scientist, and writer hailing from Georgetown, Ontario. She studied biology and geology as an undergraduate Morehead Scholar at the University of North Carolina at Chapel Hill. Next she completed a Master's degree in the History of Science as a Rhodes Scholar at Oxford University, where she wrote her dissertation on the history of scientific peacekeeping. Now she is a graduate student in the department of Earth, Atmospheric and Planetary Sciences at the Massachusetts Institute of Technology. Kate has led or participated in scientific or endurance expeditions on all seven continents, including Antarctica. She hopes to ultimately translate her passion for polar and glacial places into a life of adventure, exploration, writing, and public advocacy for the preservation of the world's cold, icy wildernesses.