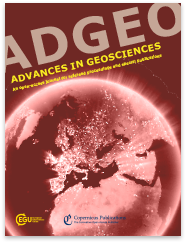 Modern research programs at both national, European and international levels are challenged by an increasing requirement for interdisciplinarity, societal relevance, and educational outreach as well as market-oriented applications. Project management strategies need to adapt to these new demands and incorporate innovative, yet sound and coherent, project management practices to ensure the effective use of the project results for higher societal impact and public awareness.
Following the positive response and participation to several project management sessions at international geosciences conferences, we are preparing a Special Issue on the EGU journal Advances in Geosciences (ADGEO) titled:
Project management in geosciences: systems and practices for high-impact research
With this special issue, we offer project managers from Europe and beyond an opportunity to share their knowledge, experience and best practices for effective management of research and technology projects in the various fields of geosciences.
Contributions are invited on a wide range of topics including, but not limited to, those addressing the following questions:
How to design a project structure to optimise project implementation and impact?
What are "best practices" in coordinating large international consortia?
How can continuity of project management expertise be maintained with project managers mostly employed on non-permanent contracts?
Which local, national and international networks of EU project managers exist, and are they useful?
How to identify organisational pitfalls?
How to deal with the project partners' different priorities, e.g., interdisciplinary and academic-private sector?
How to effectively engage non-research stakeholders to optimise project contributions?
What project management concepts/procedures can be transferred from other sectors (e.g., industry) or social sciences (e.g., economics) to geosciences?
What are the best tools for transferring knowledge from research to the private sector, decision makers, and the public in general?
How can project results and impact be effectively disseminated to the wider community and how can their importance be highlighted to funding agencies?
What lessons can be learned from "failed" projects?
Case studies are welcome; however, contributions will need to draw transferable conclusions and recommendations applicable to the majority of geosciences disciplines.
If interested in submitting a manuscript in this special issue, please send first an abstract (max. 300 words) by the 31 October 2017 to the Guest Editors: Luisa Cristini (luisa.cristini at- awi.de) and Sylvia Walter (S.Walter -at- uu.nl).